Hello all,
After scanning this forum, meeting some great people through my intoduction page, and getting some basic answers from all of you gurus... Here's my build page!
I will be a bit slow, but i'll update as soon as things are done.
About me:
I'm from and live in Jamaica.
My first love is motocross so I always ensure i drive a truck.
This is my 3rd vehicle and i've had it for 3 years now.
Ive always wanted a lift and the like but theres not really any of that going on here in Jamaica. There are however alot of Hilux's around and they are known to be great and dependable vehicles.
What I have:
2004 3.0L TD sr5. Got it bone stock and installed a vaiar 150psi compressor and 2.5gallon airtank mounted ontop of my tow bar (well hidden). Along with the air kit there is a double trumpet semi truck horn to scare the locals and taxi drivers when they get out of hand

50mm susp lift rancho's, ball joint spacers and slight TB wind up, lift shackles
low profile bump stops
Safari snorkel
Turbo timer
My plans:
50mm Body lift. - DONE
33x 12.5 tyres - DONE
as many lightforce lights as i can fit

- DONE
roll bar
xrox bar - DONE (custom xrox styled bar)
Aisin freewheel hubs - DONE
removal of all chrome
marlin crawler style rear bumber
Diff and gearbox breathers DONE
Front and rear ARB lockers and regear for 33" Tyres DONE
Top mount intercooler from a 1kd DONE
In her purchased form:
On a trip to St. Thomas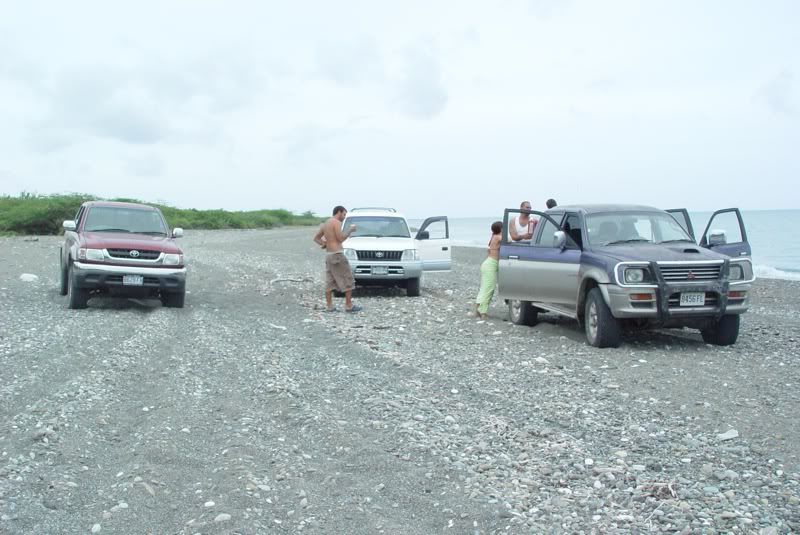 Since repainting the flares